The Right Time is Right Now
You can start changing your life today! Are you forever waiting for the "right time" to fully engage in your life, even though you wish for more joy and more fun? Don't wait any longer – it's time now to discover where you're stuck and how to move forward on creating the life you've always wanted. In The Right Time Is Right Now, author Julie McGrath poses powerfully simple questions that prompt you to review and reflect on what's preventing you from setting and achieving your goals, and then kick-starts your journey to a life full or purpose and passion. The right time is right now!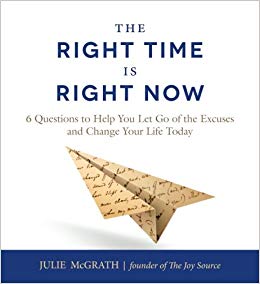 Joy-Worthy:  A Mother's Guide to More Joy, Less Stress and No Guilt
You can have more joy and less stress!
No matter where you are on your beautiful, often exhausting journey through motherhood, Joy-Worthy gives you a plan to put yourself first without guilt and rediscover what gives you joy. If motherhood is sucking the joy right out of you — or you fear it might — joy coach and licensed social worker Julie McGrath offers down-to-earth guidance on how to get your own needs met so you can be a better mother and create the fulfilling life of your dreams. You don't have to put your happiness on hold — you can learn how to be happy right now, because you are joy-worthy!
"If you've dreamed of going off on a weekend retreat to clear your head, charge your batteries, and move forward with confidence, Julie McGrath's book is the next best thing (and a lot more frugal!). Using her expertise, she challenges and coaches with care as she helps you carve a path to a happier, healthier life."
~Jill Geisler, Loyola University Chicago, author of Work Happy:What Great Bosses Know